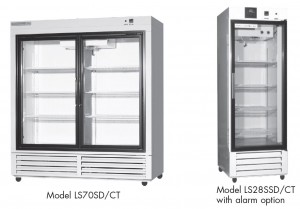 Constant temperature refrigerators are guaranteed to maintain the USP-quality storage conditions specified for 2-8 degree Celsius refrigerators. These models are factory set to 5°C, and the temperature of the air inside the chamber does not get colder than 2°C or warmer than 8°C. They stand alone among scientific refrigerators in this regard, because most others have air temperatures that vary from 0-10°C during the refrigeration cycle. Such temperature swings are not acceptable when storing small volumes of liquid (vaccines, insulin, and similar pharmaceuticals) because the thermal weight of the material is too small to dampen the effect of wide temperature variations.
Constant Temperature Refrigerators were developed to meet the need for 2-8°C storage. They can be mapped with temperature sensors throughout and will meet the USP validation requirements (with ambient room temperatures of 60-80°F). They are available in 7 sizes, designed to fit through standard door frames. Each has a microprocessor control with digital temperature display for temperature reliability.
Some standard features are listed on the chart below, but please request a specification sheet for the model you need. Options such as Swagelok® access port for thermocouple entry, solid doors, additional shelves, door locks or solid doors, temperature alarm, chart recorder, RS-232 port, and stainless steel construction are a few of the accessories we offer. See our Accessories page for a complete list of options.
If you are interested in using one of these chambers for vaccine storage, please also take a look at our Pharmacy Refrigerators. Several of the available Pharmacy Refrigerator models (the 10, 24, and 27 cubic foot models) also meet USP validation requirements for Vaccine Storage, and may be available at a lower price point than the comparable Constant Temperature Refrigerator model.
For more information or to request a quote, visit our Contact Us page or call us at (800) 998-0500.