Drosophila and Small Insect Chambers
Drosophila and small insect chambers offer a comfortable and controlled environment for breeding, rearing, incubating or experimenting with various insects. Species that are commonly raised in our insect growth chambers include Drosophila melanogaster (the common fruit fly), mosquitos, and sand flies. We offer a variety of sizes, from a 6 cubic foot undercounter unit to a 43 cubic foot 2-door upright model. The full range of sizes offered is detailed in the tables below.
Our drosophila chambers are available with 2 different options in terms of refrigeration systems. We offer chambers with traditional R-134a vapor refrigeration in all sizes, and we also offer Peltier thermoelectric coolers on single-door upright models.
Because different insect species, and research with them, requires differing levels of temperature/lighting/humidity control, we offer several different options packages for our drosophila and small insect chambers:
Level 1 – temperature control, with a glass door for room light penetration, an interior door light with an on/off switch, and an RH meter to observe humidity levels. This level of control is not available on thermoelectric models or the undercounter model.
Level 2 – temperature control, with a solid (opaque) door to block out room lighting, 2 lights (vertical lights in the upright models, horizontal lights in the undercounter model) with the on/off cycle controlled by a programmable digital clock, and an RH meter to observe humidity levels. This level of control is available on all models.
Level 3 – the same temperature and lighting control as in level 2, but with a digitally-controlled ultrasonic humidity generator to provide additive humidity. This level of control is only available on thermoelectric models.
Since the acids produced by drosophila growth media will eventually corrode even a coated evaporator coil in the high humidity environment created in level 3 chambers, using a Peltier cooler allows us to eliminate that point of failure by removing the evaporator coil altogether.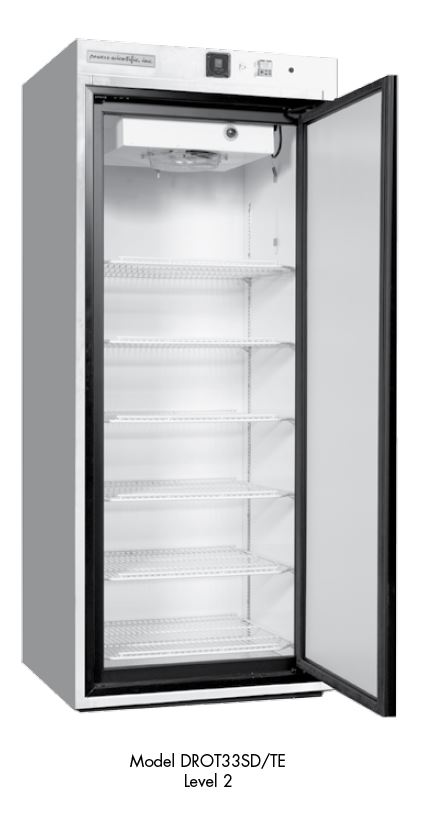 Insect chambers with a vapor compressor have a temperature range of 5-60°C with a digital temperature control and display. Chambers equipped with a Peltier thermoelectric cooling unit have a temperature range of 15-60°C. All models have a digital temperature control and display.
The temperature flexibility in our drosophila and small insect chambers allows our incubators to be used in the rearing of many different types of insects, not just drosophila and mosquitos. The chambers come with temperature failsafes to protect the chamber in the unlikely event of a temperature excursion. Casters, epoxy-coated wire shelves and a 60°C mite cycle are standard features on all models. Additionally, there are many available options to customize the chamber to meet your specific needs. See our accessories page for a complete list of these options.
While most of our chambers are built-to-order, we currently have DROT33SD/TE level 3 chambers in stock. These units offer temperature and light control with additive humidity and can be shipped anywhere in the contiguous United States in as little as one week. These units are available for $9,999 plus shipping. To get more information about the DROT33SD/TE or to get a formal price quotation, fill out our contact form or call us at 800-998-0500.