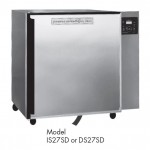 Space-saving yet spacious, these undercounter chambers offer 6 cubic feet (170 liters) of capacity and up to 7.6 square feet (0.7 square meters) of shelf space. Temperature ranges shown below indicate the capabilities of each chamber, while the temperature uniformity indicates the degree of variation throughout the chamber as measured in a specified medium (e.g. water, air).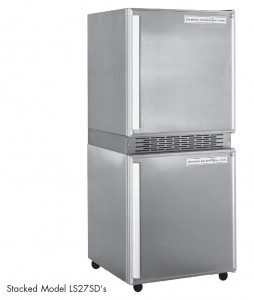 An instrument panel is included on the Refrigerated Incubator (IS27SD) and Diurnal Plant Growth Chamber (DS27SD) models to support the included alarm and/or an optional chart recorder. A panel can also be added to the Laboratory Refrigerator (LS27SD) model to support these options as well. A wall-mounted data pack is also available in place of the instrument panel if horizontal space is at a premium. Other options suitable for these small chambers are listed on the Accessories page. For example, a stacking kit can be purchased to save floor space when multiple chambers are needed (shown on the right).
For more information or to request a quote, visit our Contact Us page or call us at (800) 998-0500.